TREMEC T56 Magnum 6 Speed Transmission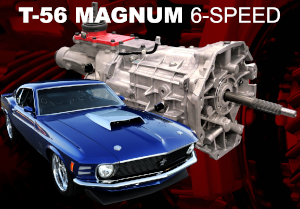 Unlike transmissions from yesteryear one transmission does not fit all models and with the vast range of vehicles in today's world each vehicle has a specific requirement.
The TREMEC T56 Magnum is the leader when it comes to high performance transmissions. The TREMEC T56 Magnum supplied from TREMEC only fits a few vehicles so in 90% of cases transmissions have to be specially designed and built to suit specific vehicles.
MAL WOOD AUTOMOTIVE is an Elite TREMEC distributor with vast experience building transmissions to suit a customer's exact needs, in most cases the extension housing and actual shifter position causes the biggest problem.
MAL WOOD AUTOMOTIVE re-engineers the extension housing and shift position to fit exactly into most vehicles therefore delivering a superbly built transmission to suit your needs.
With gear ratios being the only direct carry over from the original T-56, the Magnum is truly a brand new transmission from the ground up.
The key features are;
Huge-700 lb-ft effective torque capacity

Multiple Shifter Locations delivering a smooth, positive shift action.

Dual 'speedo' pick ups to accommodate both electric and mechanical type speedometers in most case.

Built-in mid shift provisions under inspection cover for simple, pain free mid shift conversions.

Triple cone synchronizers on gears 1 – 4, double cone synchronizers on gears 5 – 6, as well as reverse.

Accurate, smooth, high rpm shift capabilities.

6 fully synchronized forward gears as well as a synchronized reverse.

Modern OE supercar technology for the ultimate pro-tourers, road racers and more

Dual Pattern crossmember mount area
26 Spline input shaft
31 Spline output shaft
TREMEC T56 Magnum 6 Speed Overview
TREMEC T-56 Magnum is the long-awaited replacement for the T-56 and aftermarket equivalent to the TR-6060 that currently serves as factory equipment in many Vipers, Vettes, GT500s, Challengers, Camaros, CTS-Vs, and G8 GXPs. For a price tag from $6990 subject to application, it's a worthwhile investment for anybody seeking the performance and practicality of six forward gears along with massive amounts of torque capacity.
Mal Wood Automotive offers samples of different variances of Magnum Transmission.
For example:
As you can see by the images. Mal Wood Automotive can build any transmission that suites any application.
To further improve the quality of the Magnum transmission. We offer our own Short Throw Shifter.