Supra 5 Speed
At Mal Wood Automotive we believe that our Supra 5-Speed kits are the most comprehensive and user friendly kits available for your car.
Our Supra 5-Speed kits come with all that you will need for your 5-Speed conversion and will have you driving with no fuss.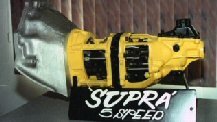 The Mal Wood Automotive Supra 5-Speed kit usually comprises of your choice of reconditioned or inspected good used Supra transmission, bellhousing, spigot bearing, clutch fork, clutch kit, flywheel, dust cover, pivot ball, clutch cable, gear stick, gear stick knob, floor boot,gearbox mount/bracket, crossmember, speedometer cable, transmission yoke / or complete driveshaft, universal joints and all bolts needed in a ready to fit package. Some of these items vary from kit to kit depending on the circumstances and we also offer a convenient, one day, drive in drive out fitting service for all 5-Speed Supra kits.
When our Supra transmissions are received, they are completely stripped and cleaned then inspected for breakage and wear. The units are then reassembled with bead blasted casings and new seals as good used units or they are reassembled with new bearings, seals and bead blasted casings to ensure a quality product every time.
All our kits come with our no hassle warranty and full instructions for areas of difficulty and over the phone technical assistance. But if you can turn a spanner you will be able to fit one of our Supra 5-Speed kits to your Holden , Ford or many other makes, there is most probably a kit to suit your car.